Our practice at Camden Hills Dental Care is to provide individualized care for each patient based on our findings and the patient's goals. This individualized care is consistently delivered in an atmosphere of compassion and comfort.
We are dedicated members of a team focused on these common goals.
Our process begins with a comprehensive diagnosis and leads to the best level of treatment available for your particular oral needs and desires, enabling you to enjoy your life with a healthy, stable and pleasing smile.
Our office and team members also provide charitable treatment for our community through organizations such as Donated Dental Services, The Knox County Dental Clinic, and the Residential Clients of Coastal Opportunities.
Recognizing the Founder of Camden Hills Dental Care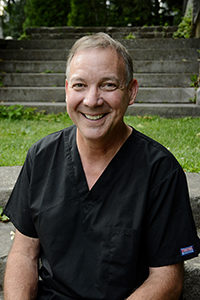 It is with great gratitude that we recognize the founder, Jonthan M Goss, DDS, MAGD.
As of January 2020, Dr Goss retired from Camden Hills Dental Care. He and his wife Lee plan to travel, spend time with family, sail and enjoy his creative hobby of woodworking.
Dr L'Italien and his staff of Camden Hills Dental are honored to uphold the vision, philosophy and level of care that Dr Goss created.
Dr. Jonathan Goss DDS, MAGD is a native to Maine. He grew up in Saco and completed high school at Thornton Academy before going on to pursue his undergraduate studies at the University of Maine in Orono. He met his wife Lee while studying dentistry at Georgetown University in Washington, D.C. In 1983, he graduated magna cum laude from Georgetown with his doctorate in dental surgery (DDS), and he and Lee moved to Rockport, Maine. Dr. Goss joined Dr. Philip Higgins in private practice in Camden, where they ran a busy and successful dental office for twenty years. In 2003, Dr. Goss moved his practice to its current location at 10 Granite Way in Rockport and renamed it Camden Hills Dental Care.
Helping patients achieve optimal dental health and confidence in their smiles is his passion. He is especially committed to furthering his knowledge of dentistry, and considers himself a continuing education "junkie". He has spent his career as an active member of professional organizations that focus on advanced studies in dentistry, including the Academy of General Dentistry (AGD) and the Seattle Study Club. He is also a member of the American Dental Association (ADA), the Casco Bay Study Club, the Maine Dental Association, and the Maine Dental Society.
Dr. Goss is so focused on furthering his education in dentistry that he has far exceeded the normal license requirements for annual updates. In 2007, Dr. Goss traveled to San Diego, California to receive an award for Mastership in the Academy of General Dentistry (MAGD). A professional designation beyond Fellowship, Mastership is the highest honor the Academy can bestow. This achievement reflects Dr. Goss's enduring commitment to providing quality care through continuing education in his field. You can be sure that when you visit Camden Hills Dental Care, you will be treated using the most effective, safest, and up-to-date methods available.
Dr. Goss and his wife have three adult daughters, all of whom grew up in Rockport. Together they have enjoyed the many recreational activities the Camden area has to offer, including sailing, skiing, and time spent on Maine lakes with extended family members. He and his family feel very lucky to be able to live in such a beautiful place and to be a part of the unique community of Camden-Rockport.